Halloween Special!!
Aloha from Matcha Cafe Maiko Waikiki♥
Halloween is around the corner!
Did you know that there are a lot of events and fun activities in Waikiki for celebrating Halloween?
Kids costume events at malls, special menus at restaurants, and people wear various of costume and come out to the Kalakaua Ave.
Hawaii people love to celebrate Halloween. We also offering special menus for Halloween.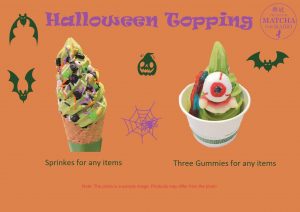 Let's enjoy the spooky atmosphere with our Halloween toppings!
We are open from 11:30 am to 9 pm every day. Please feel free to come visit the store to pick up your refreshments! 😉
Mahalo!
Matcha Cafe Maiko