Black Sesame Soft Serve!
Aloha from Matcha Cafe Maiko Waikiki♥
We at Matcha Cafe Maiko in Waikiki are offering Black Sesame Soft Serve as a limited flavor!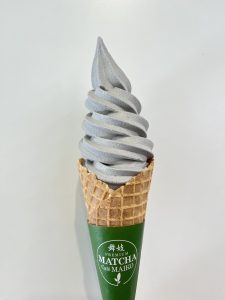 It smells fragrant and has a creamy taste. The local people also like it, and it's getting more and more popular!!
Our waffle cones are so fresh because we made them in the kitchen. It really goes well with Black sesame soft serve. Perfect combination 🙂
This limited flavor will be available until the end of November. Why don't you bring your friends and family together to enjoy Black Sesame!
We are open from 11:30 am to 9 pm every day. Please feel free to come visit the store to pick up your refreshments! 😉
Mahalo!
Matcha Cafe Maiko